College and Local Newspapers
The current three months of The Oswegonian is available on the 2nd floor, Journal Collection. Physical copies starting in 1936 can be accessed through the Archives & Special Collections department located in Room 8 of Penfield Library.
Digitized editions of The Oswegonian covering June 1935 through April 2010 is available online through the New York Historic Newspapers website at http://nyshistoricnewspapers.org/lccn/np00010011/.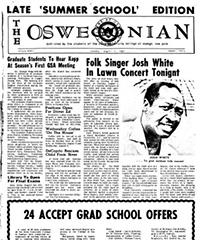 Local newspapers are available on microfilm on the 2nd floor, Periodicals.
Digitized editions of historical Oswego County newspapers can be access through the New York Historic Newspapers website https://nyshistoricnewspapers.org/titles/places/new_york/oswego/.
Some local newspaper titles of note include:
The Daily Palladium (1890-1908)
The Fulton Patriot (1892-current)
Mexico Independent (1874-1972)
The Oswego Daily Palladium (1851-1887 and 1889-1890)
The Oswego Palladium (1887-1889, 1908-1925)
Yearbooks
The Archives & Special Collections department maintains a collection of student yearbooks from the Oswego Normal School and SUNY Oswego. The call number is Reference LB 1921 O72. They include:
Oshwakee (1919)
Class Book (1921)
The Normalian (1922-1926)
The Ontarian (1927-1971, 1973-2001 and 2005)
The Normalian (1922-1926) and The Ontarian (1927-2005) are available online through New York Heritage Digital Collections at https://nyheritage.org/collections/ontarian-yearbooks.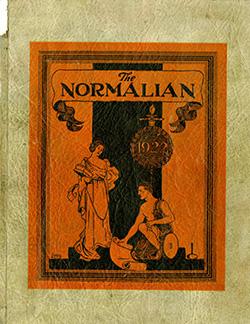 The Vocationist
Digitized issues of The Vocationist are located in HathiTrust, which are searchable. The Voactionist was described as, "A practical magazine devoted to education, particularly mechanic arts, agriculture, and home-making." and contains information of historical and institutional value from the 1910s and 1920s at the Oswego Normal School.
Volumes include:
Oral History Tapes
Most of Special Collections' oral history tapes can be found through Penfield Library's online catalog. A large number of the oral history interviews relate to college history. Other interviews are with Oswego County residents about a variety of topics including local industry, World War II, pedagogy and local agriculture.
Search by subject in combination with the phrase "Spec Coll OH", or browse all oral histories in the library catalog.